SEVILLE AIRPORT (SVQ) INFORMATION
Origin
Airline
Flight no.
Scheduled
Est./Actual
Status
No flight arrivals were found at Seville Airport.
Destination
Airline
Flight no.
Scheduled
Est./Actual
Status
No flight departures were found at Seville Airport.
Car Hire at Seville Airport
UNBEATABLE VALUE CAR RENTAL
Free Amendments | Free Cancellations | No Card Fees




Seville Airport - All Information on Seville Airport (SVQ) Seville Airport
A-4, Km. 532, 41020 Sevilla, Spain
phone +34 954 44 90 00
phone+34 954 449 214 (Lost + Found)
emailsvqcas@aena.es
emailsvq.servicios.objetosperdidos@aena.es (Lost+Found)
call_end+34 954 44 90 25 (fax)
Facts and History about Seville Airport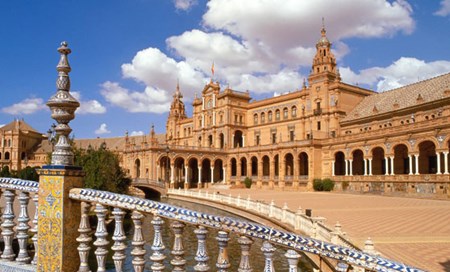 Situated in the south of Spain, Seville Airport lies ten kilometers northeast of the region's capital city, between Seville and Rinconada. The Airport is locally known as San Pablo Airport.
Passengers are reminded of an orange grove when they first arrive at the Airport. The stunning design refers to Spain's turbulent cultural past. It shows three main influences: Spain's Moorish history, the Spanish primary agricultural products derived from orange trees, and the palace, an homage to the Royal line of Espana.
Currently, the Airport is more concerned with domestic air travel but has begun to branch out internationally with more carriers offering European routes. Airlines present at Seville Airport are, for example, Air Europa, BlueAir, British Airways, Brussels Airlines, EasyJet, Iberia, Lufthansa, Ryanair, SAS, Transavia & Vueling, among others.
Some 3.4 million passengers passed through the Airport in 2021, up from 2.32 million the previous year, but still a long way from its pre-pandemic peak of 7.54 million in 2019.
Arrivals, Departures and Airlines at Seville Airport
Seville is well connected to the rest of Spain's major cities. The A4 highway, or as it is more locally known, the E05 in the international E-road network of infrastructure, connects the Airport with Seville city and also has a connection to the ring road that leads to Madrid.
Driving to Jerez takes less than an hour, with a trip to Marbella at the Costa del Sol taking approximately 3 hours, and for a day trip to Faro across the border in Portugal, you'll need to allow some 2.5 hours on the road.
Car rental is readily available at Seville Airport. Travelers can find the counters for many well-known car rental companies on the ground floor of the main terminal. Passengers can make bookings with Avis, Europcar, Hertz, National, and many more. See and compare all car rental companies at Seville Airport.
Taxis are readily available outside the main terminal building. The journey from Seville Airport to Seville city center is just shy of 15 minutes, and the ride will cost approximately €15 to €22, depending on the time of day you must travel. More information about taxis to and from Seville Airport.
Regular bus services are running between Seville Airport and the city center. The half-hourly service is available between 06.15 am and 11.00 pm every day. A bus journey into Seville city will take about 20 to 30 minutes, and the cost for an adult traveling for a single trip is €2.30. More information about bus services to and from Seville Airport.
Seville has many attractions, as has the entire region. It is worth considering hiring a car during your stay to avoid missing out on the beautiful countryside attractions in Andalusia. Seville is a friendly city with many parts pedestrianized for optimal access to shops, restaurants, cafes, and bars. Isla Magica, for example, is a theme park right within the city limits of Seville and is suitable for all the family.
The Guadalquivir River traverses the city, and old Seville comprises winding lanes, hidden courtyards, and ancient streets lined by historical monuments of stunning architecture. From Santa Justa train station, tourists can easily explore Andalusia's other cities and towns or travel across Spain in comfort and style.
Sandwiched between the foothills of Sierra Morena in the north and the Sierra Sur mountains in the south, the Guadalquivir River has provided the region with fertile lands and a waterway that stretches from the sea some 70 kilometers inland to the city of Seville. Renting a car allows you to explore the towns and cities along the river's shores. It is an unforgettable journey into Spain's rich historical culture, with architecture that shows Moorish, Jewish, and Roman influences and traditional Spanish design.
The Airport IATA 3 Letter code for Sevilla Airport is SVQ. It is also known as San Pablo. The GPS location is – 37.43333, -5.90000, which you can enter into your Smartphone/I-phone to enable you to find your way to and from San Pablo Airport.
Parking at Seville Airport
See options for parking services at Seville Airport.
Hotels near Seville Airport
There are a number of hotels to suit all budgets and requirements at or near Seville Airport.
Additional Services and Amenities at Seville Airport
At Seville Airport you will find the usual array of bars and restaurants, airport lounges and shops.
Services at Seville Airport
Useful Information about Seville Airport