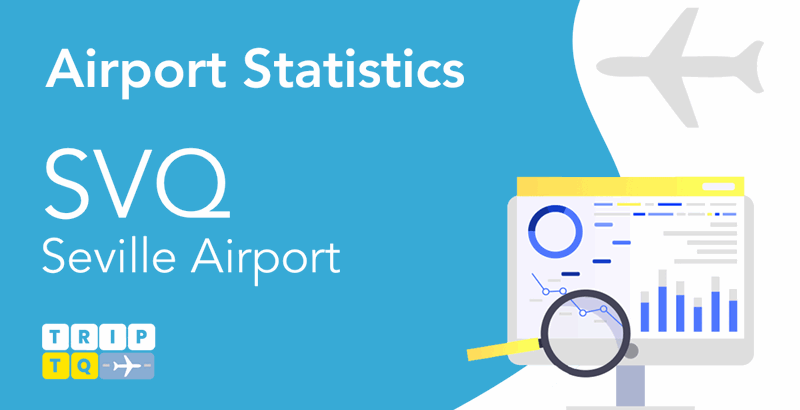 Seville Airport Exhibits 10% Passenger Growth in September 2023
In September, Seville Airport in Spain experienced a remarkable 9.97% increase in passenger numbers, totaling 740,619 passengers compared to September 2019's 673,466 passengers. This growth reflects the positive recovery trend seen in airports worldwide post-pandemic. Despite the challenges faced during the global pandemic, Seville Airport has managed to not only bounce back but also exceed pre-pandemic levels of passenger traffic.
The aviation industry faced unprecedented challenges during the global pandemic. Airports worldwide experienced a significant downturn in passenger numbers as travel restrictions and lockdown measures were imposed. However, as the world slowly emerges from the shadow of the global pandemic, airports have witnessed a steady increase in passenger traffic. Seville Airport is a shining example of this recovery, showcasing an impressive surge in passenger numbers. Several key factors have contributed to the successful rebound of this gateway.
Numerous Tourism Opportunities
The availability of numerous regional tourism opportunities has played a crucial role. Seville, known for its rich culture, historical landmarks, and vibrant festivals such as the Feria de Abril, has always been a popular destination for travelers. The gradual reopening of tourist attractions and the easing of travel restrictions have reignited the interest of tourists, leading to increased passenger traffic at the airport.
Successful Vaccination Drive
Furthermore, the successful vaccination campaigns and the implementation of health and safety measures have instilled confidence in travelers. Passengers can feel more secure when traveling, knowing that airports have implemented stringent protocols to ensure their safety. Seville Airport has been at the forefront of implementing these measures, from regular sanitization to social distancing protocols, thus boosting confidence and encouraging travelers to choose this hub for their journeys.
Role of Tourism Opportunities in Driving Increased Passenger Traffic
Embracing the post-pandemic situation, Seville Airport has capitalized on the abundance of tourism opportunities in the region, fueling the growth in passenger traffic. From exploring UNESCO World Heritage sites like the breathtaking Alcázar of Seville to indulging in the vibrant culinary scene of tapas bars and traditional flamenco performances, the city offers a myriad of experiences to captivate the hearts of travelers. The allure of Seville's rich culture, history, and festivities has enticed tourists worldwide, leading to a surge in passenger numbers at the airport. This thriving tourism industry has benefited the local economy and contributed to Seville Airport's impressive recovery.
Availability of Various Accommodations Attracts Travelers
Another pivotal factor in the remarkable rebound of Seville Airport is the wide range of accommodations available to travelers. Whether seeking a luxurious stay in a grand hotel or wanting a cozy and authentic experience in a charming boutique guesthouse, Seville caters to all preferences and budgets.
The city offers diverse options, from the lavish to the intimate ambiance of boutique hotels nestled in the narrow streets of Santa Cruz. This availability of various accommodations has served as a magnet, drawing in both domestic and international travelers who have chosen to make Seville their destination. The proximity of these accommodations to Seville Airport further enhances its appeal and contributes to the increased passenger numbers.
Commitment to Safety Measures Ensures Passenger Confidence
One cannot overlook the essential role played by airports' commitment to ensuring the safety and well-being of passengers. Seville Airport has proactively implemented stringent health and safety measures, reassuring travelers in this uncertain time. From rigorous sanitization protocols to enforcing social distancing measures, the airport has created an environment that prioritizes the health and comfort of passengers. This commitment has restored confidence in traveling, inspiring individuals to embark on journeys knowing their safety is paramount. The trust instilled by Seville Airport's dedication to passenger safety has undoubtedly played a significant role in driving an increase in passenger traffic.
The impressive recovery of specific airports, like Seville Airport, from the challenges posed by the global pandemic stems from a combination of factors. The rich tapestry of tourism opportunities, ranging from historical landmarks to cultural festivities, has rekindled the interest of travelers worldwide. Additionally, the availability of diverse accommodations has provided a comfortable and enticing haven for visitors. Crucially, the commitment of airports to implementing stringent health and safety measures has fostered passenger confidence. Amidst the ongoing transformation in the aviation industry, the adaptability, collaboration, and continuous improvement displayed by airports and governments have been instrumental in their success.
As we move into the post-pandemic era, the industry needs to reflect on the lessons learned and sustain the positive changes implemented during this time. Collaboration between governments, airlines, and airports will be key in navigating the evolving landscape and ensuring a bright future for the aviation industry.
UNBEATABLE VALUE CAR RENTAL

FREE
Amendments,
FREE
Cancellations,
NO
card fees!

airport_shuttle Need Airport Transfers?
Useful Information about Seville Airport